Brand Name, Concept and Identity
The full-service delivery started right from the offset. The rebrand was the most significant company change they had made in the last 30 years, delving right down to the trading name.
Working closely with our client's sales and marketing teams, we developed the name, concept, and identity to reinvigorate this brand and drive the company forwards.
Logo design and Business Tagline
AMTEC (short for Agricultural Machinery Technology), accompanied by the strapline 'Smart Farming Solutions' reflects the progression of the company, and a shift towards smarter and more modern technological-based farming practices.
AMTEC reflects the company's willingness and capability to evolve and adapt, and ultimately stay ahead of the curve in their industry. We then developed the brand identity further to encompass a full suite of marketing collateral.
Branding and creative
Marketing strategy
Website design and UX
Bespoke integrations
Ecommerce development
Managed and secure hosting
Video production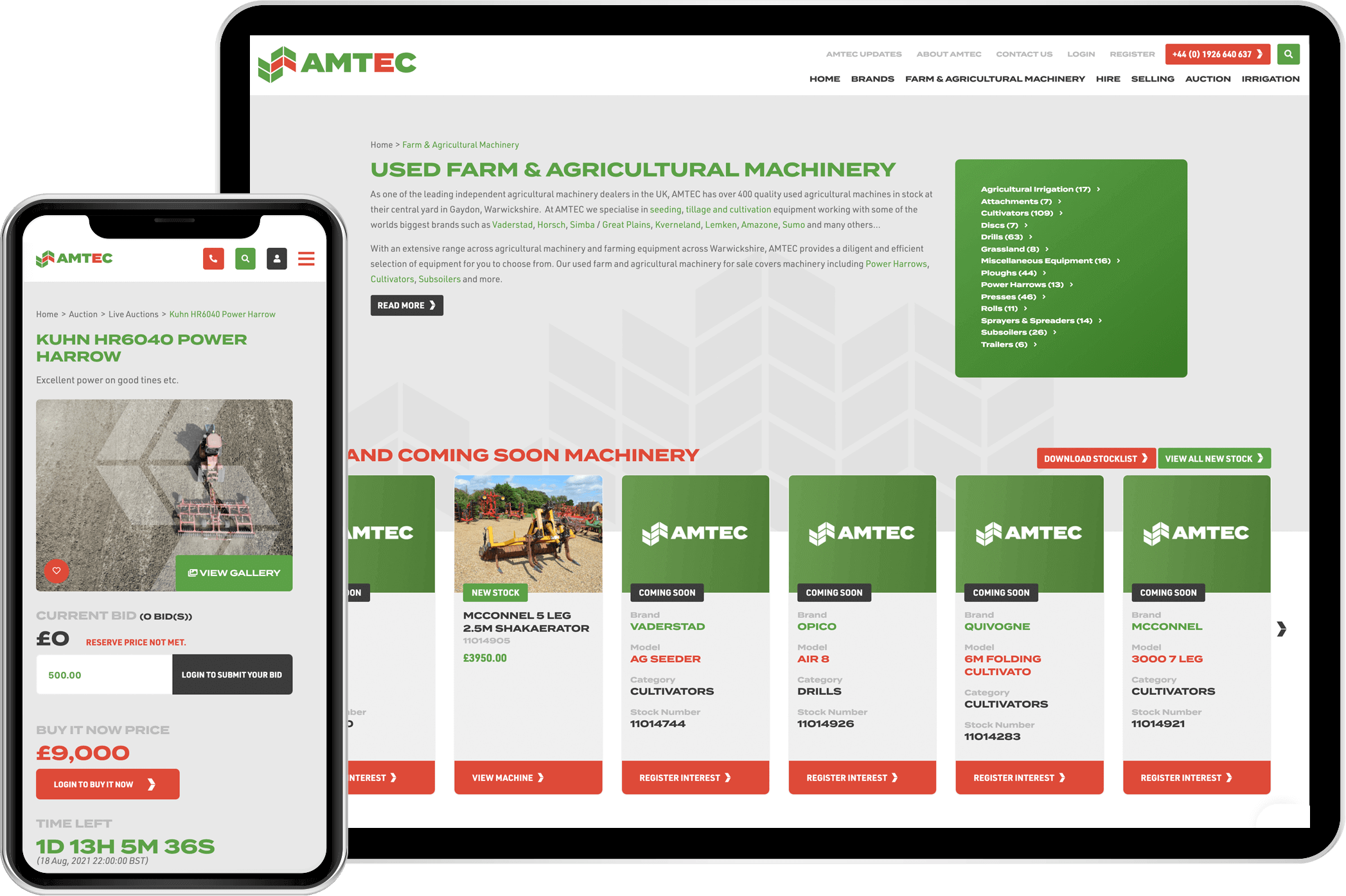 Website Development
With AMTEC needing a data-driven website rich in functionality, extensive and careful planning was required. We examined and envisaged every detail. This precise and deliberate approach allowed us to develop a perfect balance between creative design and complex application, resulting in a website that can personify and showcase the new brand, whilst providing all the features and functionality that AMTEC would require.
Behind the modern aesthetics lies a host of tailored and complex data integrations. The site streamlines processes through automation, by integrating with HubSpot, IBCOS and Auto-Trader, to name a few. The site also includes a custom-built Hire Calculator, allowing AMTEC's customers to easily gain insight into guide prices for hiring their wide range of agricultural machinery.
Animation Production and Launch Assets
To accompany the new website launch, we produced a launch video, an eye-catching animation to highlight the company's evolution and showcase the progression of their products, services, and overall market offering. The video work was followed by a series of launch assets, including web banners, print adverts and HTML emails to give the new brand and website increased exposure in the market.
The Results
The website has shown great levels of performance, exposure, and engagement since its inception, and we continue to enjoy working closely with AMTEC in relation to full-service maintenance and support, as well as exciting new projects and ventures.
"We've worked with the team at Clevercherry on several projects over the last few years, and we've always been impressed with their planning, creativity and professionalism.
"The new website was planned down to the last detail, and the whole project ran smoothly, including some bespoke features that we wanted incorporated. Their attitude is that anything can be created!"
Jason White - Marketing Manager
Like what you see?
See more by signing up to our mailing list.
With over two decades of experience in the industry, we've picked up a thing or two. So, if you want to stay ahead in the digital landscape, enhance your creativity, and learn our favourite tips and tricks to unlock your business' full potential, you've come to the right place.