Our digital team developed four individual apps designed to simplify and accelerate the process of locating the right product for the job.
Each app needed to offer superb functionality, ease of use across all devices, and deliver the user with tailored and precise recommendations.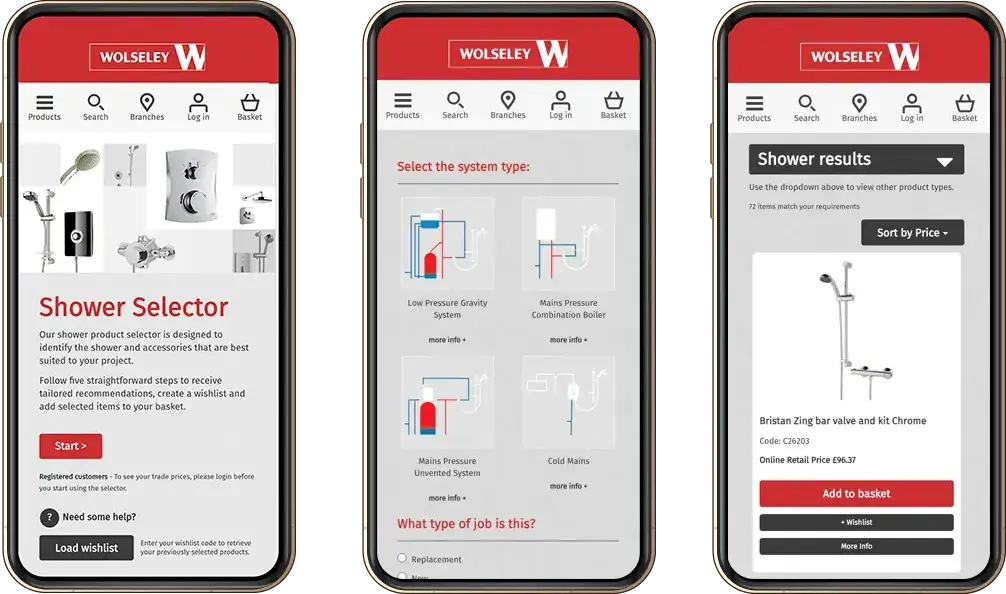 The Perfect User Journey.
Detailed planning meetings were held with the client and several focus groups with installers took place for us to plan and create the perfect user journey.
Calculations, APIs and algorithms
The resulting pioneering and intelligent tools gave tailored and exacting product recommendations, allowing installers to create a product pick list to take to any Plumb Center store. Not only did it offer a fantastic user experience, but it also saved time and made work easier.
UX and Wireframes
Stakeholder & Consumer research
Website Development
API integrations
Ecommerce
Analytics tracking
The Result
"The responsive applications delivered by Clevercherry make it quicker and easier to specify and select products online.
"It feels great to have developed apps that add value to our customers' businesses. The team's thorough approach to user experience along with their flexibility and industry expertise was key to the success of these complex projects."
Mark Parrish - Head of eCommerce
Like what you see?
See more by signing up to our mailing list.
With over two decades of experience in the industry, we've picked up a thing or two. So, if you want to stay ahead in the digital landscape, enhance your creativity, and learn our favourite tips and tricks to unlock your business' full potential, you've come to the right place.