Website Management
In 2020, Subaru were seeking a new digital and creative agency to take responsibility for the ongoing maintenance and development of their existing website, finalise current projects, and execute new digital growth plans.
Digital Expertise With a Friendly Approach
Developing strong relationships with Subaru's internal marketing team, we blended effortlessly into working processes. We were forward thinking and proactive, suggesting and implementing areas for improvement with a strong account management structure to ensure open communication and timely delivery.
Our hands-on approach ensured the client's goals were met as we utilised regular meetings and thorough analysis, monitoring behaviour against agreed specific objectives to find painpoins and offer the solutions to overcome them.
Multi-tenancy Dealership Network
The multi-tenanted solution made a complex process very simple for Subaru, allowing for all 70 dealerships to be managed on the same platform. We completed existing feature enhancements and created the functionality for full automation of the website creation process.
Websites for the relevant dealerships could be centrally managed and published using a standardised template, pulling in relevant content and allowing for brand consistency across the network. The rest of the website was populated via a script written that could access the XML file, which contained key information, and allowed for a dynamic approach.
UX Website Design & Build
Multi-Tenancy Dealership Network
CRM Integration
A/B and Performance Testing
Visual Regression Testing
Search Engine Optimisation (SEO)
Conversion Rate Optimisation (CRO)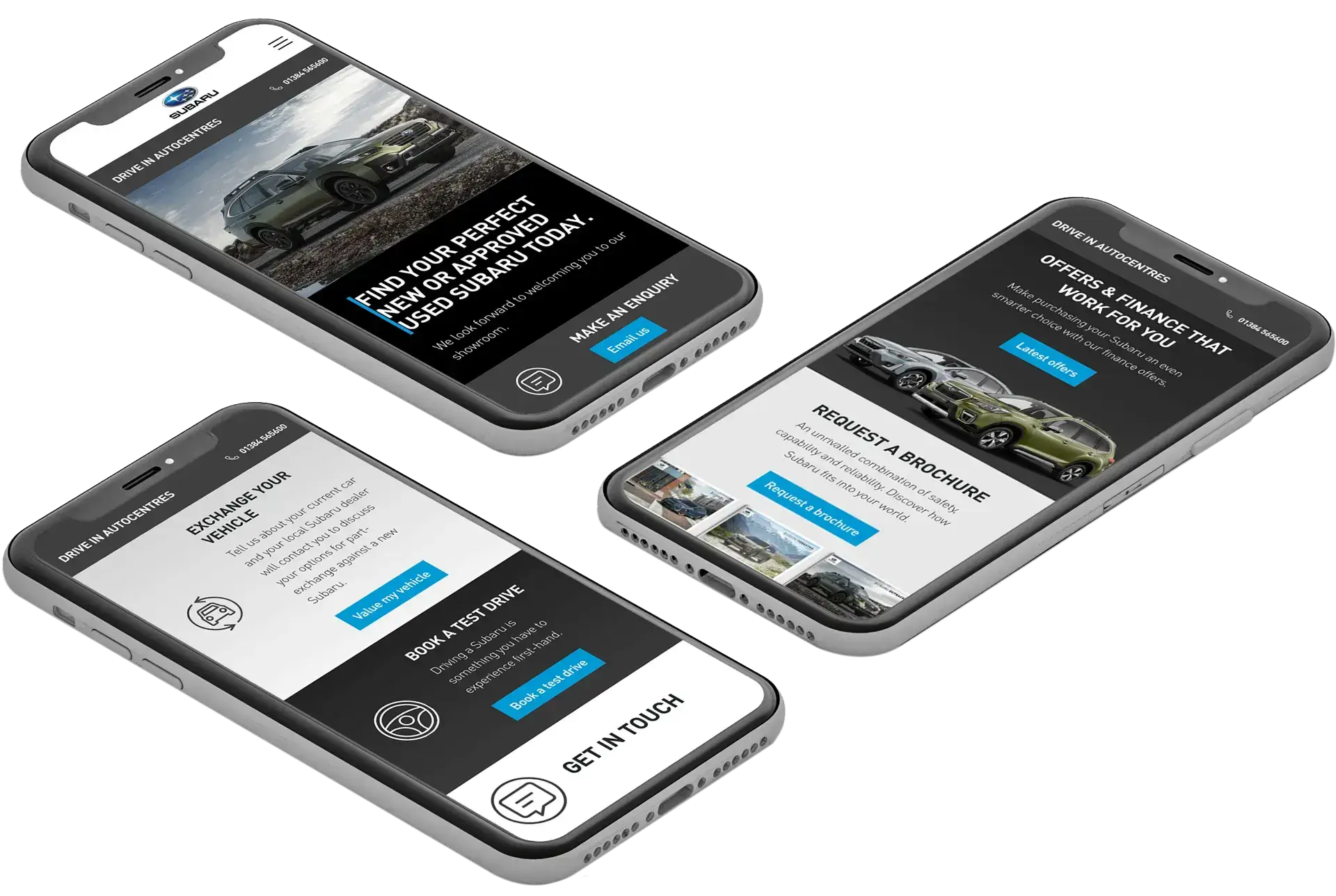 Feature Enhancements and Digital Expansion
Our digital agency also took on the accessories project for Subaru. After developing our understanding of their current positioning, we took control of all areas of their development, adding relevant stylistic components, reviewing search functionality, integrating relevant feeds and platforms, and modifying existing vehicle importers to include electric vehicles.
Testing and Optimisation
All areas of their digital presence utilised clean and precise UI, supported by exceptional UX design. We worked as brand guardians, ensuring consistency across the board, whether that was through the display of CTA buttons, colour palettes, typography, or the type of communication used.
All areas of the website were regularly tested and optimised, reviewing functionality, design, speed, SEO improvements and the installation of new features to guarantee all areas of Subaru's digital presence remained first-class.
The Result
Our previous work with Subaru has proven to be a huge success and as such, our partnership remains ongoing as we constantly evaluate ways to take their digital transformation further.
"From day one Clevercherry hit the ground running and made instant progress with managing the Subaru UK website, which just made working with them such a pleasure.
"You can rely on any member of the team to execute projects to a high standard and their attention to detail and specialist knowledge is something we can always rely on. They are quick to respond to issues and we couldn't be happier."
Lyndsey Flood
Head of Marketing – Subaru UK