Creating a Partnership
Looking to partner with a cutting-edge and forward-thinking digital and creative agency, proficient in crafting an intuitive website with unrivalled customisability, Applause IT came to Clevercherry to do just that. This project was driven by a desire for a seamless user experience, coupled with the ability to tailor and personalise the website according to their unique requirements.
Our Approach
Our digital agency established a collaborative partnership with Applause IT and created a stunning website with a flexible CMS design for the recruitment agency, surpassing their expectations.
Applause IT proved to be an exceptionally engaged client, demonstrating a clear vision for their desired direction, while also being receptive to our recommendations. This collaborative and open-minded approach fostered a seamless and mutually beneficial relationship. By embracing this two-way communication, we effectively aligned our expertise with their goals, resulting in a successful partnership built on trust and innovation.
Integration with 3rd Party API Services
User Journey Mapping & Wireframing
Mobile First Design and Build
High Fidelity Prototypes
Detailed Information Architecture Planning
Focus on Customer Engagement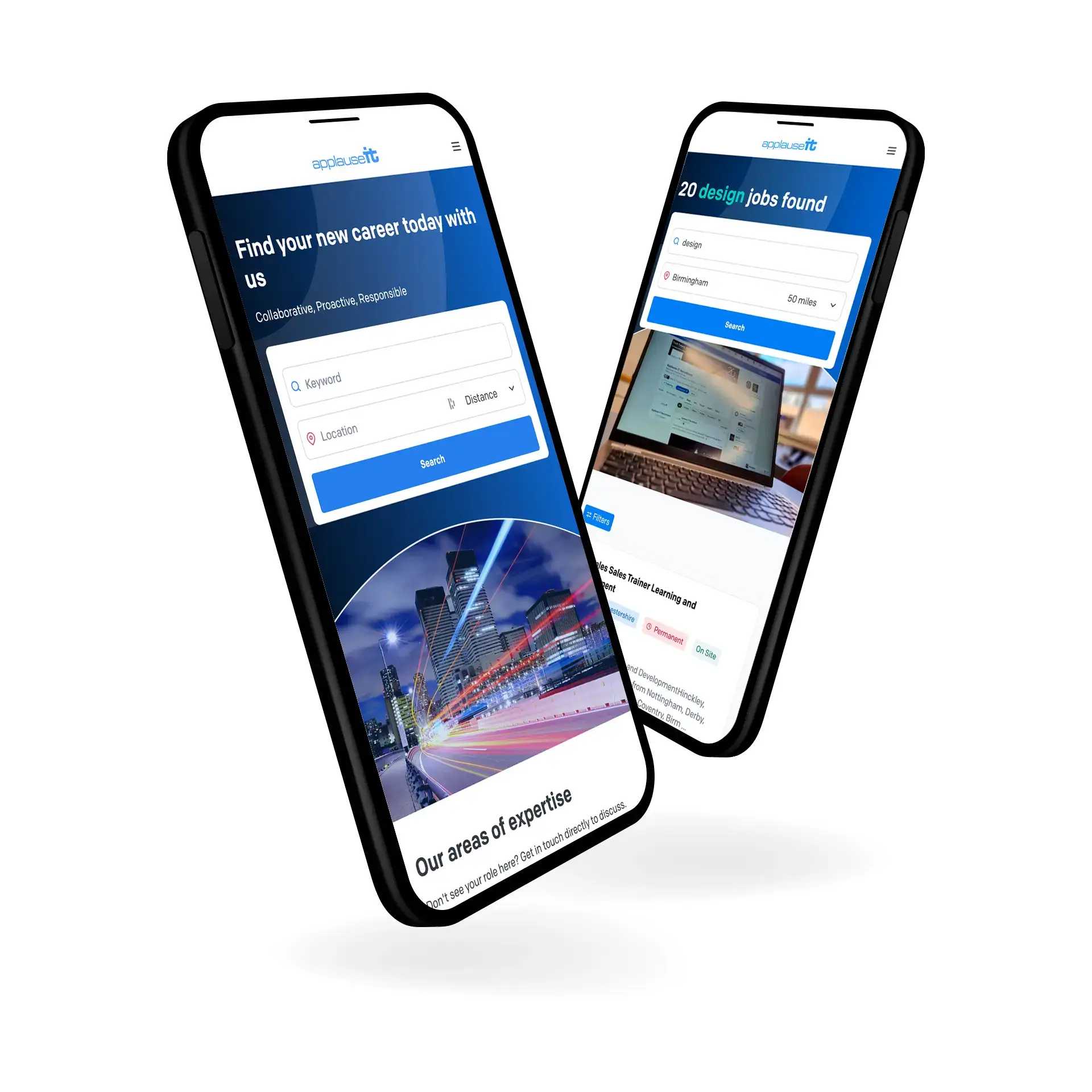 Broadbean Recruitment Software
Broadbean is an innovative cloud-based recruiting platform that utilises a network of job boards, social networks, and other online recruitment channels to distribute postings around various job portals.
We created a full integration of Broadbean into their website enabling applicants to conveniently apply through Applause IT's user-friendly website. The team at Applause IT can then access CV's and applicant data through the powerful integration, managing various avenues of data in one place.
Customisable Capabilities
A cutting-edge website architecture that introduced modular editing capabilities means Applause IT can effortlessly customise the colour schemes, content, and layout of their web pages. This provided Applause IT with the flexibility and autonomy they desired, enabling them to tailor their online presence according to their needs.
The Result
Following the launch of the Applause IT website, we saw a direct increase in the visits to the dedicated landing pages, aided by an improvement to technical and on-page SEO. The additional flexibility allowed the team at Applause IT to tailor their content to the needs of both potential candidates and clients, resulting in an increase of CV applications and generation of new business opportunities.
The enhanced functionalities of the website allow Applause IT to effectively attract and engage their target audience, driving increased conversions and creating stronger connections with their clients.
"Kicking off a new website project was daunting for us – especially when we were looking to build something from scratch! But it didn't need to be. We wanted to work with a local Birmingham business and have the ability to meet face-to-face and we couldn't be happier with the decision to work with Clevercherry.
We've been talked through each step of the journey, from the initial requirements gathering, through to go-live. This enabled us to take part in design reviews and make decisions based on having options. Great for us when we didn't always know what we wanted until we saw it!
Since then, we've continued to work together on how we can be far more productive with our website, help it to better reflect our employer brand, and also be more attractive and easier to use for our customers, candidates, and clients alike.
They don't make assumptions, always ask for our opinions, and very tactfully steer us in a better direction when we're getting above our stations!"
Alex Pitt
Associate Director, Applause IT